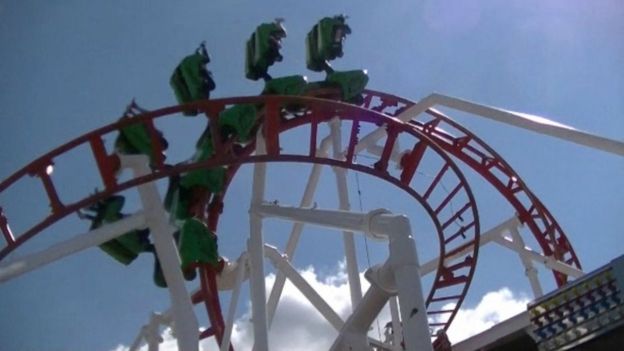 Two boys who were among nine people injured in a rollercoaster crash at a North Lanarkshire theme park on Sunday remain in a serious condition.
The ride derailed at M&D's, on the Motherwell side of Strathclyde Park.
Two boys remain in a serious condition - a 12-year-old has chest, abdominal and leg injuries and an 11-year-old suffered serious arm and hand injuries.
Four other boys, a 14-year-old girl and a 19-year-old man, are all stable in hospital, police said.
A 19-year-old woman was released after treatment.
'Serious incident'
Det Insp John Malcolm said police wanted to speak to anyone who had witnessed the crash at 15:37 BST on Sunday.
"This is a really serious incident that has affected many people visiting the theme park and our thoughts go out to those who have been injured," he said.
"We have now launched a joint investigation with the Health and Safety Executive (HSE) and our priority is to find out the cause of the incident.
"I would ask that anyone who witnessed the incident or indeed, anyone who may have video footage or photographs to get in touch with the dedicated inquiry team."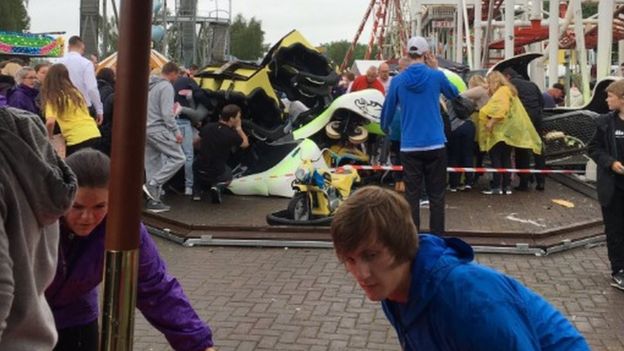 Police said the crash happened after five gondolas on the Tsunami inverted rollercoaster detached from their rails at a bend and fell to the ground.
There were nine passengers on board - two 19-year-olds and seven children.
A total of 10 people were taken to hospital in the aftermath of the crash.
A 25-year-old woman who was passing-by was found not to be injured and was released from Wishaw General Hospital following an assessment.
A 19-year-old woman who was treated for a wrist injury has been released.
Three other children remain in a stable condition at Wishaw - a 14-year-old girl who suffered chest injuries, an 11-year-old boy who was kept in for observation and a 16-year-old boy who was treated for an injury to his arm.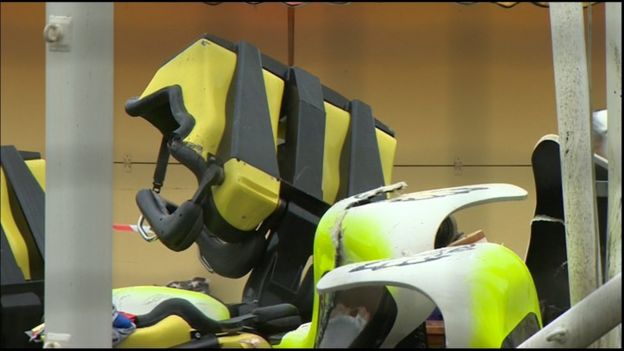 The other casualties are being treated at two hospital in Glasgow.
Four boys, two of whom are aged 11, one aged 12 and one aged 13, are being treated at the Royal Hospital for Children.
In addition to the two who are in a serious condition, an 11-year-old, who suffered leg and head injuries, is stable, and a 13-year-old is being monitored.
Investigation begins
The 19-year-old man is being treated for a knee injury at Glasgow Royal Infirmary and is also stable.
HSE principal inspector Barry Baker said a joint investigation with police was now under way.
"Our thoughts are with the children and adults who have been injured in this incident and I must give praise to the emergency services and members of the public who came to their aid so quickly yesterday," he said.
"We have brought HSE specialists in mechanical engineering to the site this morning, to begin the process of finding out what caused the gondolas to come off the rails.
"HSE will work very closely with colleagues in the police as the investigation unfolds."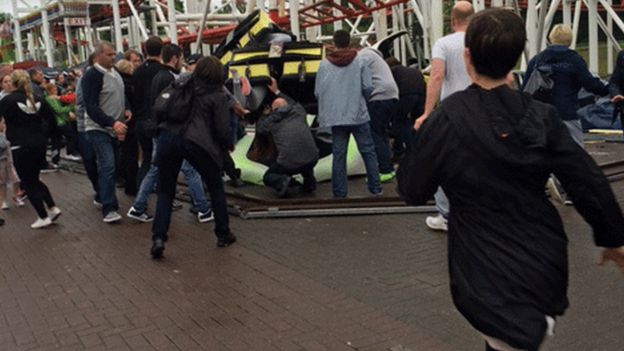 M&D's revealed that the Tsunami ride had been closed on Saturday due to a minor electrical fault but said it was fully operational when the park opened on Sunday.
M&D's 'devastated'
The park's director, Douglas Taylor, said: "Each and every ride within the theme park is safety checked on a daily basis and undergoes a thorough independent inspection every 12 months.
"My brother Matthew and I have been in business together for 50 years and this is the first incident of this type that we have ever been involved in.
"We are devastated as both a family and a business, and our heart goes out to everyone who has been affected by this accident."
Mr Taylor paid tribute to the emergency services and members of the public who had helped in the aftermath of the crash.
He added: "Our thoughts are with the people who have been injured and their families. We hope everyone makes a full recovery.
"We are cooperating fully with the joint HSE and Police Scotland investigation.
"It would be inappropriate to speculate on the cause of the accident until the investigation is complete."
It is not the first time the park has experienced problems with its rides, including the Tsunami.
Nine passengers, including children, were stranded for eight hours on the ride in July 2011 when it came to a halt 60ft (18.2m) above the ground. The malfunction was blamed on a broken lift chain.
In March, eight people had to be rescued by firefighters when the park's Tornado rollercoaster ground to a halt 20 ft (6m) in the air.
Share this story