Patrick Zamarripa's family recalls the Iraq war veteran and Dallas officer who embraced anti-police protesters and a life of service.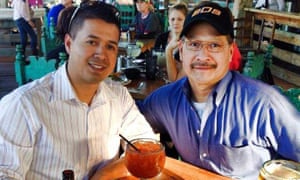 Patrick Zamarripa, one of the police officers shot dead in Dallas, Texas, pictured with his father Rick Zamarripa Photograph: Family Photo
Even when he was out on patrols and too busy to chat, Patrick Zamarripa always made sure to text his father back.
Last Thursday evening, when Rick saw on the television news that some Dallas police officers had been shot, he dashed off a text message checking in on his beloved 32-year-old.
"And he never replied," said Rick. "And that's when I started feeling bad."
Born in August 1983, Patrick grew up in Fort Worth and joined the US navy soon after graduating from Paschal High School in 2001. A few weeks later, terrorists attacked New York and Washington, and the future began to look different. His service would take him through three tours of Iraq as a military policeman.
About five years ago, having left the military, he decided to join the Dallas police department. According to Rick, his first assignment was Mesquite, the blue-collar suburb that was home to last week's gunman Micah Johnson. Then he was transferred to the Oak Cliff section of the city, and then to downtown bike patrols about two months ago.
"After being in Iraq, he never spoke about policing being dangerous," said Rick. "Maybe he thought about it in the back of his mind, but he was always positive, always hoping the best thing would happen."
Patrick already adored Kristy's eight-year-old son, Dylan. "He loved him like a regular son, and Dylan loved him like a regular father," said Rick. "They were real close."
"It was definitely a first for me and Nomar to have an officer, a true hero, want to meet us," Gallo wrote.
In fact, Kristy was at the ballgame last Thursday night. At 9.55pm, she posted a picture to Facebook showing her view of the field and the matching red Converse low-top sneakers that she and young Lyncoln were wearing. The picture's details listed Patrick as one of the subjects.
"Glad Pat is there and not in Dallas right now," a friend commented under the picture. "He's not here, I just tagged him so he'll get the pic," Kristy explained.
When a reply to his text message didn't come, Rick called Kristy at the ballpark. She told him she would find out what she could, and let him know. "It was taking forever, so I called her back," said Rick. Kristy had just got off the line with a friend and colleague of Patrick's. "We need to get to Parkland hospital," Kristy told him. "But they wouldn't tell me anything."
Rick and his wife, Marie, jumped in their car and hurtled eastbound along I-30. Even at high speed, it took them 30 anxious minutes to get there.
They were escorted to the family room. "My wife knew it, but I still didn't want to know it," said Rick. A senior officer met them there. Introducing himself, he said that he had graduated Patrick from the police academy. Rick asked how Patrick was doing.
"He looked at me, he didn't say anything, and his face turned red," said Rick. "I will always remember. I said, 'No, don't tell me that. Don't tell me that'."
Dazed, the family were permitted to see Patrick – but only from behind glass. "They only showed us him from the head up," said Rick. Lyncoln was there, and seemed confused that he was sleeping. "She was saying 'daddy, daddy," said Rick, his voice beginning to crack.
Kristy's heart is now broken without the man she called the love of her life in an online posting on Friday. "We were not done spending our lives together," she said.
Patrick will be remembered as calm, patient and thoughtful, his family said. He was the sort of man that if something was wrong, he would keep it to himself, not wanting to trouble others.
He was also kind and generous, they said. "He would give you his last dollar if he had it, and he would bend over backwards for you, said Rick. "He'd help you. If you needed something, even if you knew he couldn't really help, he'd offer to. That's who he was."
Patrick had no time for prejudice, they said, and had close friends who were black, white and Latino. "All this fighting, all this racism, this must stop," said Rick.
It was a sense of humour even during times of adversity that his family wish they could call on today.
"Patrick was my hero ever since he was born," said Rick. "And he definitely was a hero. And he should be remembered as a hero."
Share this story.