Aimee Pistorius thanks judge Thokozile Masipa for recognising that 'this is not a gender-based violence situation'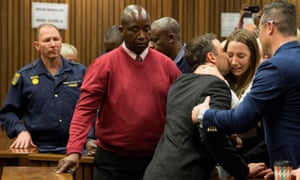 Oscar Pistorius holds his sister Aimee Pistorius as he leaves the High Court in Pretoria, on July 6, 2016 after beeing sentenced to six years in jail for murdering his girlfriend Reeva Steenkamp. Photograph: Marco Longari/AFP/Getty Images
The sister of South African athlete Oscar Pistorius, who was
sent back to jail for six years on Wednesday
in what many viewed as a lenient sentence for murdering his girlfriend, has said that she was "grateful" to the judge.
"The thing I'm most grateful (for) and the thing I really appreciate is the emphasis she made to distinguish a difference between the facts and the truth in terms of this is not a gender-based violence situation," Aimee Pistorius said in an interview with the eNCA television news channel.
"It's a terrible accident where Oscar had no intention of shooting Reeva," she said.
Pistorious fatally shot his girlfriend four times through a toilet door at his Pretoria home and has already served 12 months in prison, but the original manslaughter conviction was increased to murder by the supreme court of appeal in December.
Pistorius claimed he fired four shots into the toilet on Valentine's Day 2013 in the mistaken belief that an intruder was hiding behind it.
The former runner, who had the lower part of his legs amputated when he was a baby, was freed from prison last October after almost a year in prison.
He was to serve the remainder of the original five-year term under house arrest at his uncle's house in a wealthy suburb of the
South Africa
capital.